Get Connected
Our Projects
Operation Toybox
KOAM brings together the Joplin, Pittsburg and surrounding communities by giving them the news, weather and sports they care about.
Main Office
2950 NE Highway 69
P.O. Box 659
Pittsburg, KS 66762-0659

Phone : 417-624-0233
or 620-231-0400

General Fax : 417-624-3115
Newsroom Fax: (417) 624-3158

Joplin Office
745 Rangeline
Joplin, MO 64801

Phone : 417-623-6111
General Fax : 417-623-6700

KOAM is a subsidiary of Saga Quad States Communications LLC
---
NOTE: Sending multiple emails at the same time may be ignored as our system will think these are either errors or spam and will delete them automatically. One email is enough.
Contact Us About...
---
On Air Personalities
Dowe Quick | Executive Producer, Anchor
Dowe Quick has been with KOAM News since October 1980. He has won the prestigious Edward R. Murrow Award for Investigative Reporting as well as numerous awards from Kansas, Missouri, and Oklahoma Broadcasting Associations for his reporting.
Follow Dowe:
koamtv.com/dowequick
On Facebook
Via News Feed

Contact Dowe:
417.624.0233 or 620.231.0400
dquick@koamtv.com
Doug Heady | Chief Meteorologist
Originally from Kansas City, Missouri, Doug came to KOAM from KSHB, where he did the morning weather. In December 2002, the University of Kansas alum took over as the KOAM Chief Meteorologist.
Doug was the youngest person certified by American Meteorological Society. Is also certified by National Weather Association in 2003. Now a Certified Broadcast Meteorologist, which will replace the AMS.
Follow Doug:
On Facebook
On Twitter
Contact Doug:
417.624.0233 or 620.231.0400
dheady@koamtv.com
Jordan Aubey | Senior Reporter
Born in Canada, Jordan was raised in Chicago and got his Broadcast Journalism degree from Columbia College of Chicago.
Aubey says being a reporter is his dream job but admits that if he wasn't doing this, he'd like to be a travel and food critic.
Follow Jordan:
koamtv.com/jordanaubey
On Facebook
Via News Feed

Contact Jordan:
417.624.0233 or 620.231.0400
jaubey@koamtv.com
Tawnya Bach | Anchor
Tawnya came to the Four States in the Fall of 2005 after working as weekend anchor at KRBC in Abilene, Texas, and as assignment editor & producer at KCTV in Kansas City. Tawnya earned her degrees in journalism and theatre & film from the University of Kansas at Lawrence.
Her hometown is Jetmore, Kansas, a rural community with a population of about 900. Tawnya, nicknamed "T-Bach," admits to being afraid of mice & rats following a bad experience at a Kansas City haunted house!
Contact Tawnya:
417.624.0233 or 620.231.0400
tbach@koamtv.com
Tyler Daniel | Fill-In Meteorologist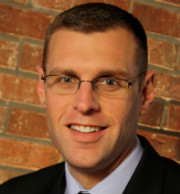 Tyler Daniel first joined the KOAM news team in 1996 working behind the scenes and on the air. He has held a number of positions including News Assistant, Photojournalist, News Reporter, Weekend Weather Anchor and Chief Weather Anchor.
Tyler currently works as a full-time Firefighter/EMT in the Kansas City area, but returns to KOAM from time as a fill-in Weather Anchor.
Growing up Humboldt Kansas, Tyler developed a special interest in weather and still today enjoys the challenges of forecasting here in the Four-States.
Tyler is a graduate of Humboldt High School and Pittsburg State University.
Contact Tyler:
tdaniel@koamtv.com
Rudy Harper | Reporter
Rudy grew up in St. Charles, Missouri and joined KOAM in January 2013.
He graduated from Park University in Kansas City with a Bachelor's in Communication Broadcast. He has been with KMBC 9 and KSHB, both in Kansas City.
Follow Rudy:
On Facebook
On Twitter
Contact Rudy:
417.624.0233 or 620.231.0400
rharper (at) koamtv.
Lindsey Henry | Reporter, Fox 14 fill in anchor
Lindsey was raised in Katy, Texas, a surburb of Houston, though most of her family is from Joplin.
With a degree in Mass Communications Broadcast Production, Lindsey interned at KXAN-TV in Austin, Texas, and also spent time at KIII-TV in Corpus Christi.
Lindsey joined us in June 2011.
Follow Lindsey:
On Facebook
On Twitter
Contact Lindsey:
417.624.0233 or 620.231.0400
lhenry@koamtv.com
Liz Holliday | Reporter
Liz grew up in San Antonio, Texas and joined us in July 2012.
She got her B.A. in Communications and Political Science at Lewis & Clark College in Oregon; and, earned a Master's in International Journalism at City University in London.
Follow Liz:
On Facebook
On Twitter
Contact Liz:
417.624.0233 or 620.231.0400
Nick Kelly | Weather
Nick grew up in the St. Louis, Missouri area and started at KOAM in October 2011.
A graduate of the University of Missouri, Nick was an on-air meteorologist for KOMU-TV in Columbia, Missouri, and interned for KPLR-TV in St. Louis.
Follow Nick:
On Facebook
Contact Nick:
417.624.0233 or 620.231.0400
nkelly@koamtv.com
Lisa Olliges | Reporter, Weekend Anchor and Producer
Lisa is a Missouri native, calling St. Louis her hometown. She started with KOAM in 1988 and is a graduate of Lindwood College, with degrees in Mass Communications and Performing Arts. She is active in Joplin Little Theatre and is a teacher at her son's preschool.
Lisa is the Education Reporter for KOAM along with her anchor duties.
Follow Lisa:
koamtv.com/lisaolliges

Contact Lisa:
417.623.6111 or 620.231.0400
lolliges@koamtv.com
Dave Pylant | Anchor and Weather
Dave's hometown is Kennett, Missouri, and he is the only person on staff who can say the third time is the charm. Dave's worked at the station three different times over the past two decades.
Contact Dave:
417.624.0233 or 620.231.0400
dpylant@koamtv.com
Jehan Sheikh | Reporter
Jehan was born in Kuala Lumpur Malaysia but grew up in Dallas, Texas. She started at KOAM in June 2011 after getting her degree in Broadcast Journalism from the University of Arkansas in May 2011.
Jehan interned for ESPN Radio in Fayetteville and was a student representative for ESPNU's Campus Connections.
Contact Jehan:
417.624.0233 or 620.231.0400
jsheikh@koamtv.com
---
Production
The KOAM Production Department is a state-of-the-art production facility staffed by an award-winning group of producers, graphic artists, video editors and photographers.
KOAM specializes in producing television commercials, but also has won numerous awards for long-form promotional and industrial videos, full-length television programs, and 3D animation and graphics.
KOAM has produced thousands of television commercials for clients throughout the Midwest. Our client list consists of hospitals, retailers, newspapers, churches, colleges and universities, automotive dealers, and many, many more.
Whether you need something simple or a high-concept image spot, the KOAM Production staff has you covered.
The Production Department at KOAM has also produced hundreds of long-form videos for area businesses. Product promotion videos, training videos, installation videos, image videos and more, all with the highest quality available, all designed to present your message or product to your targeted group.
---
Advertising
KOAM-TV is the strong #1 choice of Four-State Viewers in the Joplin/Pittsburg Market!
According to the Nielsen County Coverage study, KOAM-TV dominates nearly all of the 14 counties in the Designated Market Area.
If your product or service needs sales in the entire Joplin/Pittsburg Market, YOU NEED KOAM-TV!
Contact us for information on how you can profit from exposure on the most powerful station in the area!
---

Staff Directory
News
Aubey, Jordan - Reporter and fill-in anchor
Bach, Tawnya - Morning News Anchor
Harper, Rudy - Reporter

Marsh, Stephanie | News Assignment Editor | 417.624.0233 |

smarsh@koamtv.com
Olliges, Lisa

- Reporter, and Weekend Anchor and Producer

Pylant, Dave

- Morning News Anchor and Weather

Quick, Dowe

- Executive Producer, and KOAM News at 6 and 10 Anchor

Spencer, Kristi - News Director | 417.624.0233 |

kspencer@koamtv.com
Stokes, Brandon - Morning News Producer | 417.624.0233 | bstokes@koamtv.com
Strader, Stacie - KOAM News at 5 Producer | 417.624.0233 | sstrader@koamtv.com
Thomas, Cory - KOAM News at 6 & 10 Producer | 417.624.0233 | cthomas@koamtv.com

Thompson, Aaron - Chief Videographer | 417.624.0233 |

athompson@koamtv.com
Weather
Sports
Advertising
Production
Administrative & Support