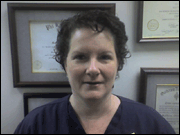 Mary has worked with Dr. Matthew Lowe since 2002 as Head Surgery Assistant. She resides in Pittsburg with her husband Andy and their children; Sarah, Kylie, Mariah, and Drew. In 1987 Mary graduated from an accredited dental Assisting Program in Eugene Oregon and successfully completed the dental Assisting National Board Exam for Certification. In 1987 she also received Certification in Radiological Proficiency from the Oregon Board of Dentistry.
From 1987 to 1991 the U.S. Government employed her as a civilian, working in oral surgery at 34th General Hospital in Augsburg Germany. In 1990 she received the "Certificate of Achievement" from the Department of the Army for demonstrating the highest quality of care possible for a dental assistant. 1991 to present Mary has been a Certified Dental Assistant in SE Kansas. In 2001 she earned her Certification as a Pharmacy Technician through the Pharmacy Technician Certification Board.
In 2003 she earned her Advanced Cardiac Life Support certification. In 2005 she successfully completed the Oral and Maxillofacial Surgery Anesthesia Assistants Program. Mary was an associate instructor at Neosho County Community College in early childhood education 1999-2001. In 2006 Mary was selected by the Accrediting Bureau of Health Education Schools to be part of their site accreditation team throughout the United States. In 2007 the dental Assisting National Board selected Mary to be an Item Writer for their various Dental Board exams. She continues to volunteer in teaching dental Health education at many area grade schools and after-school youth programs. In 2007 she received the 20-year Achievement award from the Dental Assisting National Board for continual assisting excellence and quality patient care.