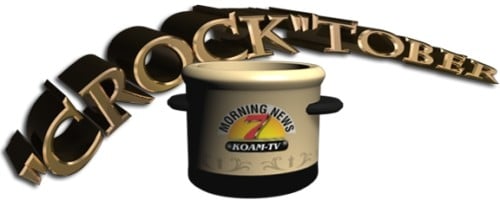 It's time for some good home cookin' on the KOAM Morning News. Once again we're calling for your best slow cooker recipes as we celebrate "Crocktober ".
If we pick your recipe and put it to the test, you win.
We'll stir up a winning recipe every Wednesday during October, and the winners will receive a $100 gift card from Food 4 Less and a slow cooker from Pearl Brothers True Value Hardware.
Winners will be announced during the KOAM Morning News on October 9, October 16, October 23 and October 30.
Email your recipe and a picture of the final product to crocktober@koamtv.com, or send your recipe to us in the mail:
KOAM-TV
c/o Crocktober
P.O. Box 659
Pittsburg, KS 66762-0659
PREVIOUS WINNERS
October 10, 2012
Chicken frijole cheese dip
Provided by Debbie Bailey of Chanute, Kansas
Get the recipe
October 26, 2011
Albino nachos
Provided by Ivy Nelson of Monett, Missouri
Get the recipe
October 19, 2011
Slow-cooker apple crisp
Provided by Mel Binam of Jasper, Missouri
Get the recipe
October 12, 2011
Breakfast Casserole
Provided by Tresea Randall of Frontenac, Kansas
Get the recipe
October 5, 2011
Sweet and Sour Meatballs with Rice
Provided by Tish Wydick of Pittsburg, Kansas
Get the recipe
October 13, 2010
Crockpot Saunchos
Provided by Rennie Moffett of Granby, Missouri
Get the recipe
October 6, 2010
Sweet & Sour Shrimp
Provided by Julia Manning of Miami, Oklahoma
Get the recipe
October 22, 2009
"That German Thing"
Submitted by Leslie Ledford of Fort Scott, Kansas
Get the recipe
October 15, 2009
Beef Tips
Submitted by Rachel Kunkel of Schell City, Missouri
Get the recipe

October 8, 2009
Slow Cooker Enchiladas
Submitted by Angel Barnett of Galena, Kansas
Get the recipe

October 1, 2009
Crockpot Kalua Pork
Provided by KOAM's Tawnya Bach
Get the recipe